Shaolin Generational Dharma Names
The 28th Indian patriarch of Mahāyāna Buddhism and the Chánshī (禅师; lit. "Dhyana Master" or "Zen Master"), the first patriarch of China was Bodhidharma (Sanskrit: बोधिधर्म). The Chinese called him Pútídámó (達摩). He lived from about 483 AD to 536 AD (Traditional Chinese Kan-chih Calendar 3179 to 3180 – 3232 to 3233). Bodhidharma arrived at the Shaolin Temple in 527 AD (Traditional Chinese Kan-chih Calendar 3223 to 3224). Since his advent, numerous generations of indoctrinated monks and nuns, warrior monks or wǔsēng (武僧), and lay disciples have handed down the pillars of Shaolin culture: Ch'an Buddhism (禅 Chán) or Chinese Zen, martial arts (武 wǔ), Buddhist art (艺 yì), and traditional Chinese medicine (医 yī). The dissemination of knowledge was through the relationship of master and disciple. The master-disciple connection is a manifestation of the traditional patriarchal clan network of the Shaolin Temple.

Shaolin Abbot Xueting Fuyu
The Shaolin patriarchal clan system was founded in the 13th century by Shaolin Abbot Xueting Fuyu (Traditional Chinese: 雪庭福裕; pinyin: Xuětíng Fúyù; 1203–1275; Traditional Chinese Kan-chih Calendar 3899 to 3900 – 3971 to 3972). Fuyu was a renowned Ch'an master of the Caodong Sect during the early years of the Yuan (Mongol) Dynasty (Traditional Chinese: 元朝; pinyin: Yuán Cháo; 1206–1368; Traditional Chinese Kan-chih Calendar 3902 to 3903 – 4064 to 4065). The Caodong Sect was one of the five schools of Ch'an (Chinese Zen) that developed after the end of Bodhidharma's lineage. Fuyu was the first abbot of the new lineage of Shaolin monks and nuns that emerged at the Shaolin Temple (Shàolín Sì 少林寺; lit. "Young/New Forest Temple").
The establishment of the Shaolin clan system had significant influences on the Shaolin Temple and Shaolin martial arts, called Shaolin Chuan Fa (Traditional Chinese: 少林穿法; pinyin: Shàolín Chuān Fǎ; lit: "Shaolin fist technique") or Shaolin Wugong (Traditional Chinese: 少林武功; pinyin: Shàolín Wǔgōng; lit. "Shaolin martial arts feats").
Fuyu was the abbot of the Shaolin Temple during a war-torn period in China's history. He sought to create one style of Shaolin martial arts. For this purpose, he held symposia three times, each lasting three years, during which he invited prominent Wǔgōng masters from all of China to come to the Shaolin Temple and share their techniques and knowledge. The Shaolin monks and nuns recorded the accumulated techniques and martial forms in a library maintained at the temple. The attending Wǔgōng masters returned to their homes, bringing back Shaolin techniques with them.
As a result of Fuyu's symposia, a unified system emerged and it was called Songshan Shaolin (Chin.: Sōngshān Shàolín 嵩山少林). Numerous martial arts styles in China, Korean, and today trace their beginnings to the Shaolin Temple, which is why it is sometimes mistakenly considered "the birthplace of martial arts."
Fuyu wrote a 70-character Ch'an poem which is the basis for the current Shaolin "character generation" (zìbèi 字辈) naming system used by masters to give Dharma names to their disciples.
Like many Buddhist monks and nuns, Shaolin monks and nuns are given a Dharma name or monastic name during their ordaining ceremony. Shaolin Dharma names contain the ensuing components:
Title/Surname/Prefix
Generation Name
Personal Name
The Title or Surname for ordained Shaolin monks and nuns is Shì (釋) from Shìjiāmóní (釋迦摩尼), the Chinese adaptation of Shakyamuni, one of the names of Gautama Buddha. The title indicates Shaolin monks and nuns are members of the greater Buddhist family. During the Song dynasty (Traditional Chinese: 宋朝; pinyin: Sòng Cháo; 960–1279; Traditional Chinese Kan-chih Calendar 3656 to 3657 – 3975 to 3976), it was decreed for Chinese Buddhist monasticism that all members of the Sēngjiā (僧伽), the Chinese adaptation of the Sanskrit word Sangha (संघ) for monastic "community" of monks and nuns, should be called by the surname Shì since they were members of the Shìjiāmóní spiritual family. In Chinese culture, individuals are customarily referred to by their surname first. Occasionally, the title Shì is dropped for monks and nuns, leaving the last two parts of their Dharma names as personal identifiers.
The Generation name is derived from the clan naming system established by Fuyu with his seventy character poem.
The personal name of a Shaolin Dharma name is bestowed by a master to a disciple according to individual personal traits or skills unique to the disciple. A monk or nun can have numerous masters, but customarily keeps the name given by his or her first master.
In the nearly 800 years that have followed Fuyu, there have been about thirty-six generations of monks, nuns, and disciples. Each generation uses the following word in the poem. For example, the generational name of a monk, nun, or disciple of the 24th generation would be Rú (如) since it is the 24th word in the poem. The generational name of his or her master would be since it is the 23rd word in the poem.
The 27th Shaolin abbot, Shi Chun Pu (Chin.: Shì Chún Pú 释淳朴), was of the 28th generation. The character of Chún (淳) is the 28th word in the poem.
Chun Pu headed the Shaolin Temple from 1927 to 1929 (Traditional Chinese Kan-chih Calendar 4623 to 4624 – 4625 to 4626) during the turbulent era of the Republic of China (Chin.: Zhōnghuá Mínguó 中華民國). Its capital was based in Beijing in Northern China and it ruled the mainland from 1912 to 1949 (Traditional Chinese Kan-chih Calendar 4608 to 4609 – 4645 to 4646). During its early years, the Republic of China contended with regional warlords throughout the country. In 1928, a Christian warlord named Feng Yuxiang (冯玉祥) [1882–1948; Traditional Chinese Kan-chih Calendar 4578 to 4579 – 4644 to 4645] ordered his subordinate, Shi Yousan (石友三), to burn the Shaolin Temple down.
From 2017 (Traditional Chinese Kan-chih Calendar 4713), the monk generations use the ideograms of Dé (德; 31st generation), Xíng (行; 32nd generation), Yǒng (永; 33rd generation), Yán (延; 34th generation), Héng (恒; 35th generation), and Miào (妙; 36th generation) in the generational component of their Dharma name.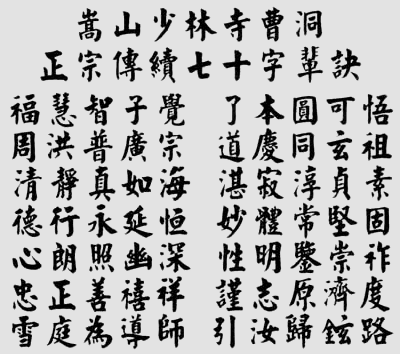 Shaolin Generational Name Poem
Sōng Shān Shàolín Sì Cáodòng Shīxù Zhèngzōng Qīshí Zì Bèi Jué
fú huì zhìzi jué
le běn yuán kě wù
zhōuhóngpǔ guǎng zōng
dào qìng tóng xuán zǔ
qīngjìng zhēnrú hǎi
zhàn jì chúnzhēn sù
déxíng yǒng yán héng
miào tǐ cháng jiāngù
xīn lǎng zhào yōushēn
xìng míngjiàn zōng zuò
zhōngzhèng shàn xǐ xiáng
jǐn què yuán jì dù
xuě tíng wéi dǎoshī
yǐn rǔ guī xuàn lù
Song Mountain Shaolin Temple Caodong Poetry Continuation of the Orthodox School Seventy Generation Name Rhyming Formula
Blessed and intelligent, a young man will become aware.
Following the journey to enlightenment to its end leads to vast insight.
Ch'an spreads like rays of sun all over the world.
All branches of Buddhism come from the same ancestry.
The Buddha condition is pure and quiet, deep as the sea.
When you let go attachments, your true nature shows.
Virtue is eternal, a pure heart is steadfast.
When your mind is serene and deep, it perceives clearly and lights the darkness.
Remain loyal, upright, and benevolent to enjoy happiness and peace.
The snowy courtyard is like a teacher that will guide you to return to the road to Buddhahood.
Shaolin Generational Names List
| | | | |
| --- | --- | --- | --- |
| Generation | Generation Name | Generation | Generation Name |
| | | | |
| | | | |
| | | | |
| | | | |
| | | | |
| | | | |
| | | | |
| | | | |
| | | | |
| | | | |
| | | | |
| | | | |
| | | | |
| | | | |
| | | | |
| | | | |
| | | | |
| | | | |
| | | | |
| | | | |
| | | | |
| | | | |
| | | | |
| | | | |
| | | | |
| | | | |
| | | | |
| | | | |
| | | | |
| | | | |
| | | | |
| | | | |
| | | | |
| | | | |
| | | | |
The Michigan Shaolin Wugong Temple offers instruction on the practical techniques of the Shaolin monks and nuns in its martial arts classes.